A new micro-recycling technique could turn your old coffee pods into a high-quality aluminium, offering a green alternative to manufacturing businesses.
You know those pesky coffee pods that jam up your automatic espresso machine when you don't empty the bin often enough? Do you toss them in the garbage or the recycling? Previously, they would have gone straight in the red, but thanks to new research, these single-use pods are being given a second life.
The UNSW Sustainable Materials Research and Technology (SMaRT) Centre has found a way that could start a new 'green aluminium' manufacturing revolution. The new technique allows us to recover aluminium from complex, multilayered packaging (such as disposable coffee pods) and turn it into a high-quality aluminium.
There's even potential for these materials to be repurposed as a source of high-energy hydrocarbon products. The new green aluminium will be composed of polymer-laminated aluminium which is found in the packaging of a wide range of food and coffee products.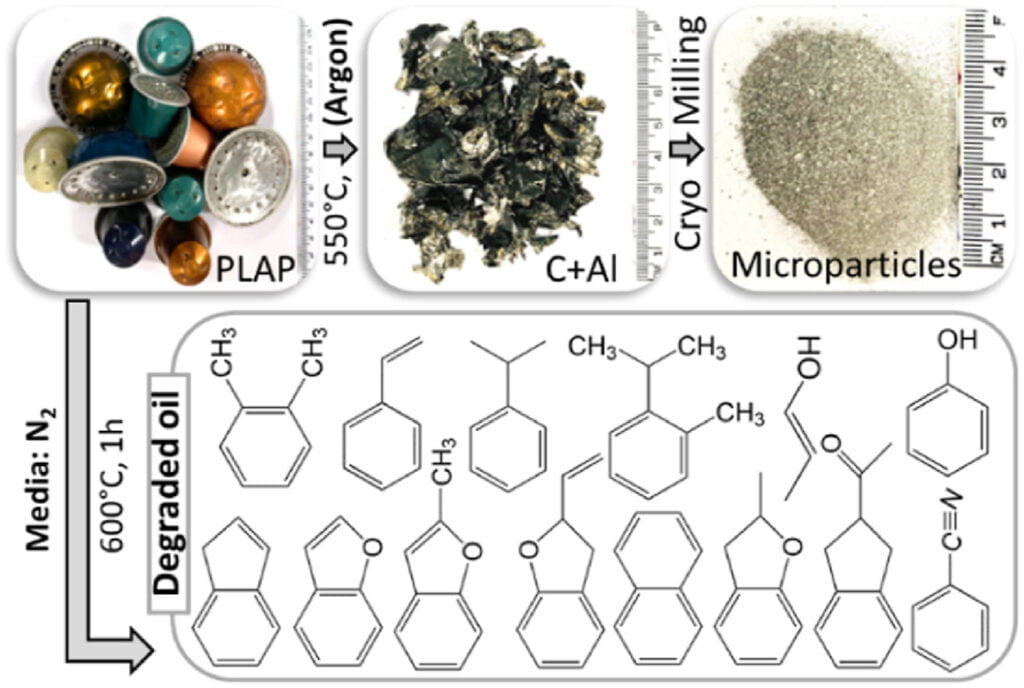 Where did the idea of green aluminium come from?
The new technique is based on the micro-recycling science pioneered by the SMaRT Centre under the leadership of its Director, Professor Veena Sahajwalla, and builds on its waste materials innovations including Green Steel and Microfactorie® technologies.
"We developed Green Steel technology by extracting hydrogen and carbon from old rubber tyres and plastic as an innovative and green pathway in steel making, and we now can develop new 'Green Aluminium' with our novel technique called Thermal Disengagement Technology (TDT)," explains Veena, whose SMaRT Centre is part of the UNSW Science Faculty.
"Recycling using new technologies can be a foundation for the manufacturing of high-quality materials from our waste resources, as we seek to develop greater sovereign capability along with economic prosperity."
How do you make green aluminium?
The new Thermal Disengagement Technology (TDT) offers an innovative, efficient, and sustainable micro-recycling technique to separate the materials in complex polymer-laminated metal packaging waste. TDT can transform the aluminium into a clean and green metal, allowing it to be extracted in a way that means it can be used as a high-quality material for manufacturing, while minimising residual waste.
"Green Steel and green manufacturing are capabilities we have been pioneering for over a decade. The jobs and sustainability revolution our government wants to create as announced in its 2020 Budget can get a boost from some of these sort of existing innovations where industry and researchers are already successfully partnering," says Veena.
"Using waste-reforming technology can create new supply chains and jobs, especially in regional locations, because it doesn't have to be large scale nor expensive. That is why I see a future where recycling and manufacturing are aligned, where waste and recycling become part of the manufacturing supply chain, and that is important in this new COVID era where we now highly value 'sovereign capability'.
Research will continue around the practicalities of applying the new technique on a mass scale, however, early evidence shows great potential for green aluminium to become a true asset to our manufacturing practices in Australia.
Added 18 January
Looking to responsibly dispose of your existing coffee pods?
L'OR, Moccona & illy coffee capsules may be recycled through a program run by TerraCycle. More information can be found here.
For those who use ALDI coffee capsules, ALDI recommends you check with your local recycling authorities that your used capsules are recyclable. Keep in mind that you must remove all the residue left in the pod before disposing it.
Nespresso provides a free recycling service for its coffee capsules which can be dropped off at one of the 19,000 collection points around Australia. Alternatively, you can request an envelope and post them directly. Bulk collection boxes are also available to businesses and organisations.
The Recycling Near You website by Planet Ark is a great resource for finding ways to safely and responsibly dispose of your waste from the kitchen and beyond.