For many Australians caught in a cycle of struggling with their mental health and battling tough circumstances, life's ups and downs can become overwhelming. According to the Australian Bureau of Statistics, 3128 people committed suicide in 2017, making it the leading cause of death for Australians aged between 15 and 44. Meanwhile, the suicide rate for Aboriginal and Torres Strait Islander people is roughly twice that of non-Indigenous Australians.
About R U OK?
Around Australia we have incredible resources available to support ourselves and those we love when we need it most. R U OK? is a suicide prevention charity encouraging people to look out for the signs that someone they care about is struggling, and empowering them to have a conversation that could change a life. R U OK?'s goal is to inspire people to take the time to ask: "Are you ok?" and to listen to the response. "We can help people struggling with life feel connected long before they even think about suicide. It all comes down to regular, face-to-face, meaningful conversations about life. And asking, 'Are you ok?' is a great place to start."
About Lifeline
Meanwhile, Lifeline is dedicated to providing 24-hour support for people in times of crisis. The not-for-profit has more than 10,000 volunteers working around the country to help Australians doing it tough. Every year they receive almost a million contacts from people reaching out. In 2018 the organisation partnered with Twitter to offer support via the social media network, and they are currently trialling a text service that they hope will be a gamechanger in making their vital work accessible to all.

What's the number one thing family and friends can do for someone who is struggling with depression, anxiety or thoughts of suicide?
R U OK?: Use our four steps to start a conversation: ask, listen, encourage action and check in. Make sure you've chosen a time they can sit down and talk, and create a safe space for them. If you suspect someone is considering suicide, ask them directly in a calm, non-judgemental way. Listen to what they say and allow them to talk about what is going on for them. Take what they say seriously. Help them find pathways to professional support, such as calling Lifeline or booking an appointment with their GP. If you are worried for their immediate safety, call Triple Zero (000) or take them to the local Emergency Department.
LIFELINE: Be open to connecting with them. Family and friends have an important role to play in reducing the isolation that can be experienced by people struggling with thoughts of suicide. At Lifeline we believe that no person should ever have to face their darkest moments alone. That's why our crisis support line 13 11 14 is open 24 hours a day, seven days a week, to offer support to anyone who is struggling.
When dealing with depression or anxiety, what support is on offer and how can it be accessed?
R U OK?: Our website provides a comprehensive list of help-seeking avenues for a variety of issues that people face. We all go through life's challenges: grief, relationship breakdown, job loss, etc. When our relationships are strong, we are best placed to notice the signs that someone is struggling. You can find professional support for yourself or the person you are worried about online at ruok.org.au/findhelp
LIFELINE: Our service is available to anyone experiencing emotional distress at any time. You can call our telephone line on 13 11 14 (24/7), or chat to a crisis supporter through webchat at lifeline.org.au (7pm to midnight Sydney time).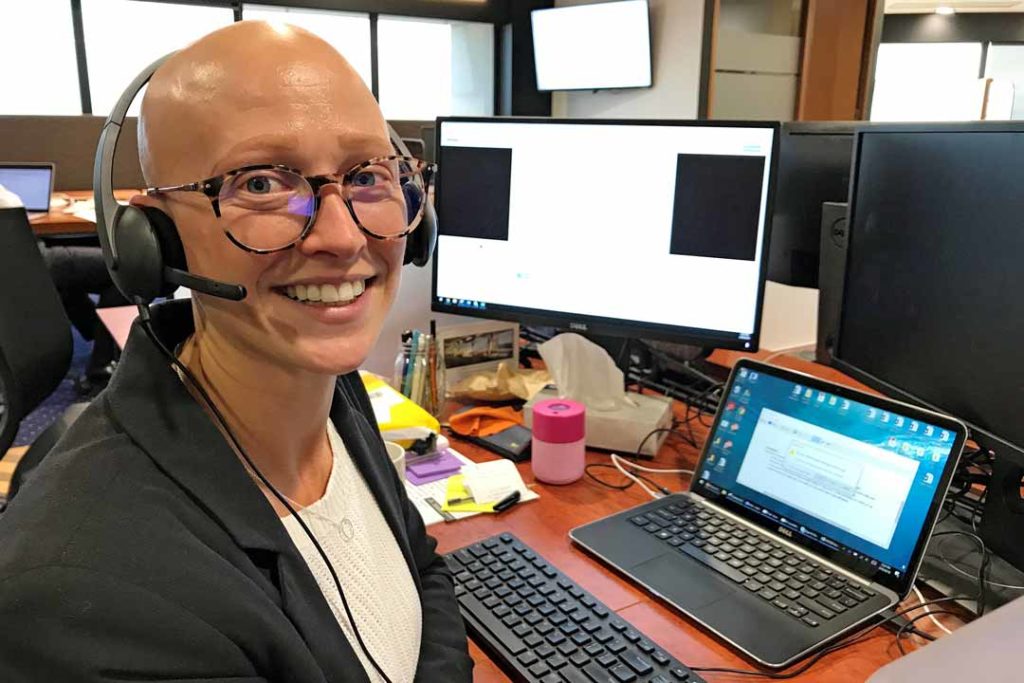 What support is available to people living in regional and rural areas?
R U OK?: We are committed to reaching everyone, no matter their location. With reduced mental health services, isolation and climate issues impacting those in regional areas, looking out for the signs that someone you know might be struggling with life is critical. R U OK? has created a 'Mateship Manual' – a short, simple guide designed specifically to address issues regional Aussies face. Find it at ruok.org.au/mateship-manual
We also provide a set of resources specifically targeting fly-in/fly-out (FIFO) employees who are at risk of isolation and disconnection from friends and loved ones. Tailored guides can be found at ruok.org.au/work-resources
LIFELINE: We have 40 centres around Australia and 20 of them are in rural and regional areas. The message we want to get to people in the country is, when you call Lifeline your contact is kept confidential. Calls are not answered by your local centre, they can be answered by a volunteer anywhere around the nation.
What about young people who are struggling with mental health?
LIFELINE: In 2017 twice as many young Australians died of suicide than on our roads. We have to get the message to young people that they can reach out to Lifeline for help. Our trained crisis supporters are highly skilled listeners who will talk or chat online to any person who is experiencing emotional distress at any time.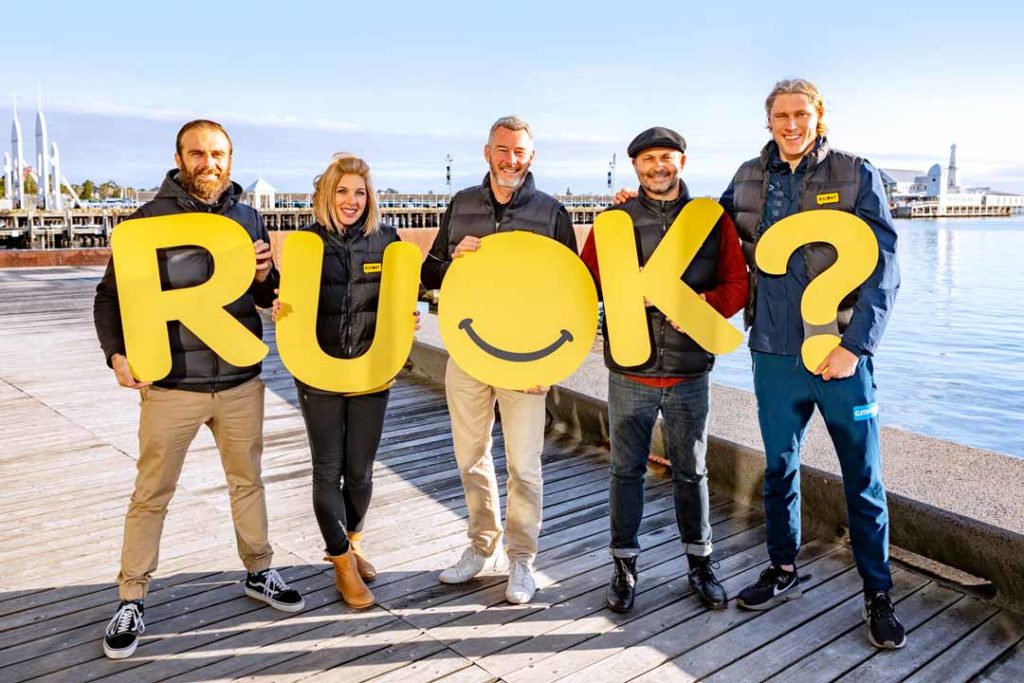 And migrants to Australia?
LIFELINE: Anyone in Australia can contact Lifeline. There is a free interpreting service provided by the government for people who do not speak English. To access it call the Translating and Interpreting Service (TIS) on 131 450 and explain that you want to speak to Lifeline in the language required. The operator will call 13 11 14 on your behalf. Find out more at tisnational.gov.au
Sometimes the most important thing we can do to support ourselves is simply to start today. What is one thing I can do today to support my own Mental Health?
R U OK?: Meaningfully connect with people in your life who really matter to you. When our connections are strong, we are more likely to feel supported and able to face the challenges that arise in all our lives.
LIFELINE: Allow yourself the time to do something you enjoy.
And what is one thing I can do today to support other people in my life?
R U OK?: Visit them, phone them, check in with them, ask them how things are really going in their life. Have a meaningful conversation that allows them to open up and tell you what's going on with them. It's often said that the things that keep us up at night aren't as bad when you've shared them with a friend, and that heartfelt conversation can be a great starting point to supporting someone.
LIFELINE: Look out for each other. When you notice a change in behaviour, check it out. Ask your friend or family member if they are ok. If they're not, you can call Lifeline for advice on how best to help them, or ask them to call Lifeline for themselves, or suggest taking them to a GP. If life is in danger always call 000.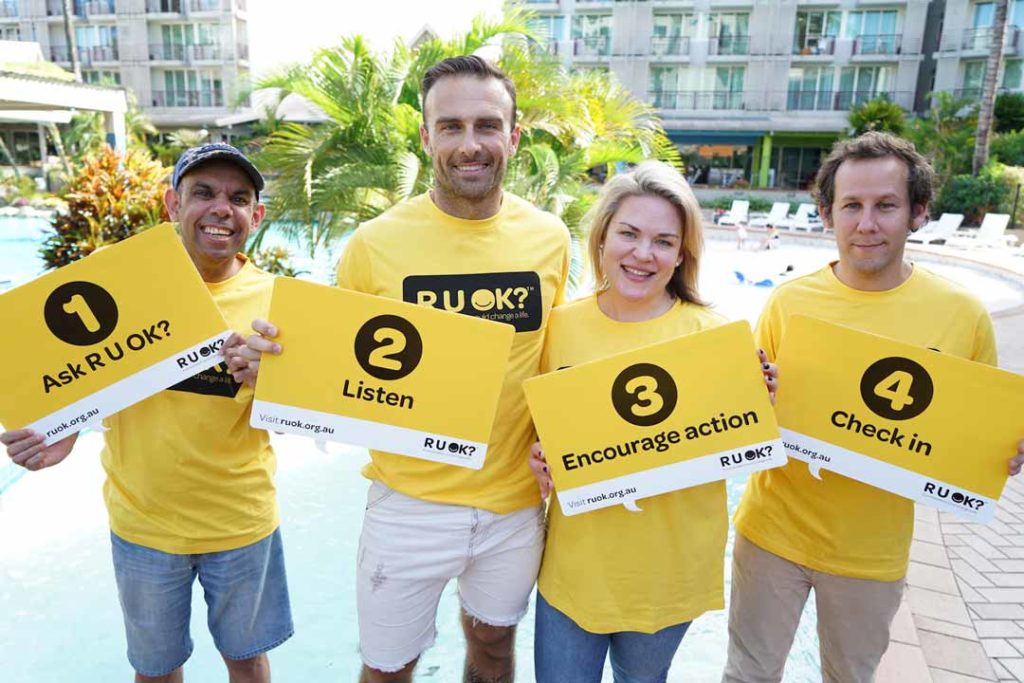 How can I get involved with and support your work?
R U OK?: Familiarise yourself with the free resources on our website to help navigate the conversation when someone says: "No, I'm not ok." You can host community, school or workplace events that integrate the R U OK? message, participate in challenges such as fun runs and walks to increase awareness, share our message on social media and inspire others to look out for those in your world, become workplace champions or become community ambassadors. Our website is a great starting point for people wanting to get involved: ruok.org.au/join-r-u-ok-day
LIFELINE: Lifeline exists because of our volunteers – and we always need more! We want to answer every call that comes in, but sometimes in peak service periods callers hang up before we can get to them. Our challenge is to encourage people to hold on until we can answer their call. We are always looking for volunteers to help with this. Head to our website for more information about volunteering: lifeline.org.au/support-lifeline/volunteer
To learn more about the mental health crisis facing Aussies, click here.


R U OK?: Support for friends and family of people at risk of suicide, plus resources to access a variety of organisations that can help with mental health and suicide prevention.
ruok.org.au/findhelp
Lifeline: 24/7 phone serve and online chat (7pm to midnight Sydney time) for people at risk of suicide.
13 11 14 | lifeline.org.au
Suicide Call Back Service: 24/7 call service for people at risk of suicide.
1300 659 467 | suicidecallbackservice.org.au
GriefLine: Counselling for people experiencing grief.
1300 845 745 | griefline.org.au
Beyond Blue: Support and resources for anxiety, depression and suicide prevention.
1300 22 4636 | beyondblue.org.au
ReachOut: Online resource for young people and their parents.
reachout.com
APS: Find a psychologist in your area.
1800 333 497 | psychology.org.au
Virtual Psychologist: 24/7 online chat, phone, text, email psychologist service for farmers and rural Australians.
Call: 0404 032 249 | Text: 0488 807 266 | virtualpsychologist.com.au/home
Lifeline Service Finder: Online map directory of health and community services.
lifeline.serviceseeker.com.au