Your Food Collective is building the blueprint for a carbon positive food system where consumers are empowered to be part of the regeneration of our planet.
Your Food Collective is an ambitious start-up founded by two Australian cousins, Lauren Branson and Cara Cooper, in response to the devastating impact of the country's current food system and lack of access to fresh, nutritious food to feed families. It is one of the eight Australian start-ups recognised in the international Foodbytes! Pitch for 2021. 
Your Food Collective has created an ethically-focused blueprint for a food system aimed towards nourishing the planet and its people. It has developed technology and operating models that shortens supply chains, supports sustainable farming practices and decentralises food distribution. Lauren and Cara have devised a playbook for hyper-local food distribution, and they are doing it for the benefit of the environment. 
Netflix for your groceries
Consumers order food directly from YFC, which sources it from local, sustainable growers. Think of it like a farmers market mixed with a streaming service. Australians can hop online, choose which local produce they would like, and it's delivered straight to their door. It's making sustainable choices all too easy.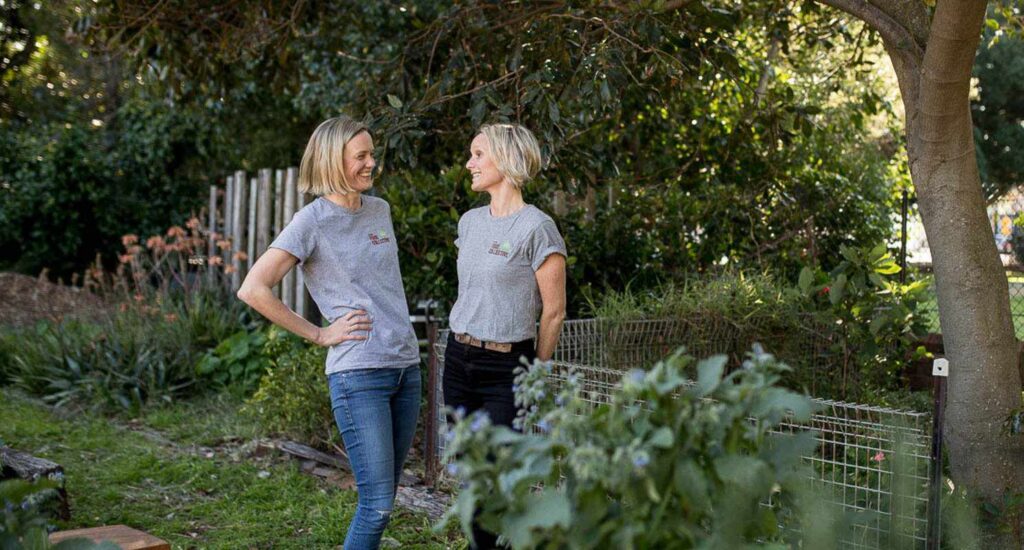 Lauren Branson, CEO of Your Food Collective, believes the key to lessening the environmental impact of the food system is by completely overhauling Australia's consumer practices with groceries. 
"Long supply chains, industrialised farming and centralised distribution have dominated our food system for the past 50 years," says Lauren.
Your Food Collective paints a fairly pessimistic picture of the current state of Australia's food industry, however, they project a bright future if their start-up continues to grow and set a new trend of grocery shopping. And it may seem pie-in-the-sky thinking, however, numbers don't lie and in fact, current figures show they are on track to become major players.
Building brand loyalty
YFC is currently recording a 135 per cent year on year growth, with an 80 per cent customer retention each month. Not only is the start-up gaining more customers, it is retaining them with its excellent consumer experience. This focus on building brand loyalty is a common trait amongst modern start-ups, and it stems from current research. 
The online grocery space within Australia is a $7 billion industry, with an average growth of 25.7 per cent from the last five years. Research from the International FMCG/CPG Report has revealed more than 54 per cent of consumers are looking for sustainable, local brands they can trust. YFC, like many other start-ups, has intercepted this golden egg of consumer trends and run with it all the way to the try-line. 
It all starts on the farm
Key to the start-up's success is its practice of building close relationships with producers and farmers. Your Food collective works closely with local, sustainable growers. It chooses who it works with, and aligns itself only with farmers who respect the land and systems that support it. 
"Our growers are regenerating life across their farms and drawing down carbon from the atmosphere and returning it to the soil," says Lauren. She acknowledges this strict protocol of who the start-up chooses to work with is a fair price to pay, ultimately because "food tastes better when you know where it's grown and who it is grown by." 
The current narrative of food starts at the grocery store, and Your Food Collective is aiming to revert the story's beginning all the way back to the paddock.
"Our connection to producers is incredibly important because food doesn't start it's journey in a central market, it's in the paddock and the soil where it germinates so that's where we begin ours too and we share this with our consumers."
Lauren is incredibly excited to be recognised on the world stage for the 2021 Foodbytes Pitch, and she sees it as a great opportunity to take centre stage in the conversation towards healing the planet. " It is going to take radical change to shift from a commodity based food system to a values based food system and we're proud to be part of the conversation." 
Politicians across the world talk a big game of net zero emissions, however, environmental policy won't become practical without key players such as Your Food Collective. "Being sustainable is no longer enough. We need to go beyond sustainability and start regenerating our way of life."
YFC is currently inviting Australians to "grow with us" by opening up investment opportunities through the Birchal equity crowdfunding platform.
Ausbiz had the opportunity to chat with the eight Australian start-ups recognised in the 2021 Rabobank Foodbytes! Pitch, which sees an international line up of agricultural start-ups and enterprises shaking up the food and agricultural industries. Meet a few of the other start-ups:
Agridigital – The start-up transforming Australia's grain industry