Kids buried in their phones 24/7? You may not be able to curb their screen time but you can make it a little more productive.
Mum and dad entrepreneurs Ann and Issac Elnekave have invented an app that you download on to your child's phone that makes them answer an educational question correctly in order to unlock their favourite apps.
Market research shows that this is the first of its kind; it's a hybrid between a parent control app, and a study learning app. Furthermore, the parent is in complete control and can monitor their child's progress, unearthing areas where they can improve.
Where did the initial idea come from? How has it made an impact in your lives?
Ann: The idea first came about when we were sitting in our lounge room during lockdown. The kids were all on their phones and I thought 'wouldn't it be great if they had to answer a maths question before they could get into their other apps?'. Click TiK ToK, suuuuuuure, what's 6 x 7? Want to dive back into Roblox? No problem. First, simplify this fraction'. As soon as they've answered correctly, they're in and can continue with their other apps – every single time!
Once I decided it was something I wanted to pursue & had done some research & testing of the initial concept, Issac's entrepreneurial and tech background really helped to grow the idea and bring it to life. It's been an incredible family affair. Our house has transformed into the 1Question headquarters! At times it can be daunting trying to maintain some sort of boundaries between work and family – we are always 'on'. As we've grown, we've added incredibly talented team members and together we're excited for the journey ahead.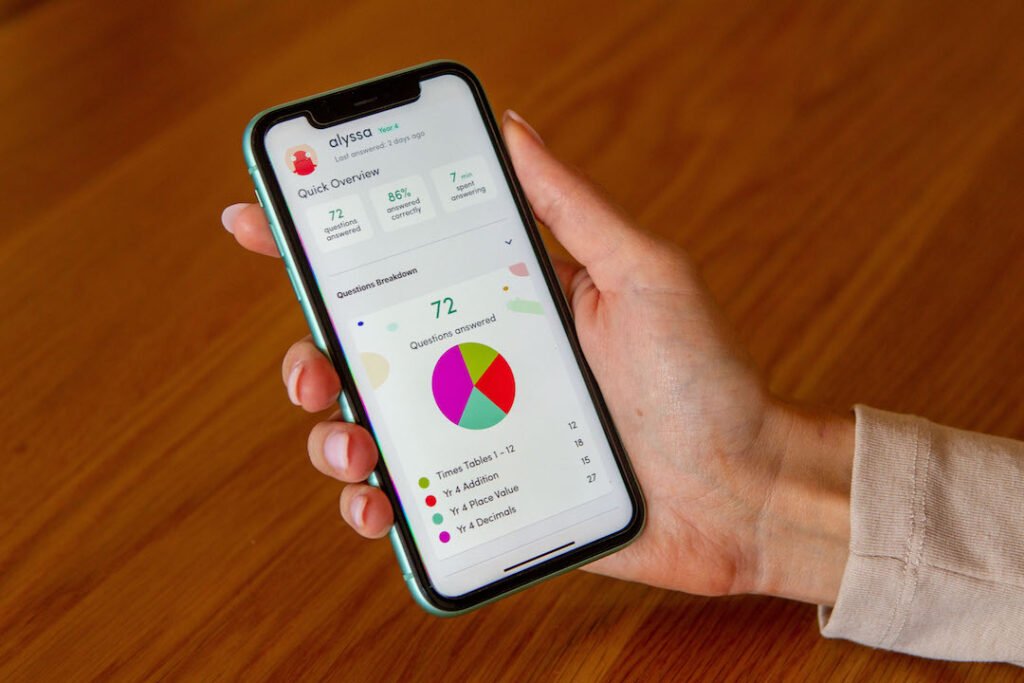 Are the questions aligned with current national curriculums? Has the Department of Education had any involvement with the project?
Issac: The content has been developed by a team of educators in line with both the Australian and US maths curriculums. Starting with Year 1 through to Year 6, with 7-9 being added in the next fortnight. We have not engaged with the Department of Education…yet. But stay tuned, we're in discussions with leading teachers, schools and universities to collaborate on ways to make 1Question even better!
Rather than trying to reduce screen time (as many apps and initiatives have tried recently), 1Question has gone down a different path. Can you explain the reasoning behind this?
Ann: Just like trying to work an exercise routine into your day, we thought we'd apply the same concept to study. Our children are growing up in a digital age and are incredibly engaged with their devices so we're taking little slices of those moments of engagement and redirecting them toward revision. In the same way we would help our children by quizzing them before a test, or helping them create post it notes to remember concepts, this is a fantastic way of supporting their learning.
Of course, 1Question does not replace homework or conventional study methods – 1Question is built to complement classroom and other types of conceptual learning. We use the techniques of Spaced Repetition and the Leitner Learning system to consolidate classroom learnings and to help shift that information from short to long term memory in much the same way as you would with flashcards, except you don't need to think about it. Once you've set up the app, 1Question does the work. The AI engine monitors and predicts learner performance and adjusts the learning protocols accordingly – tailoring the process to each individual child's needs.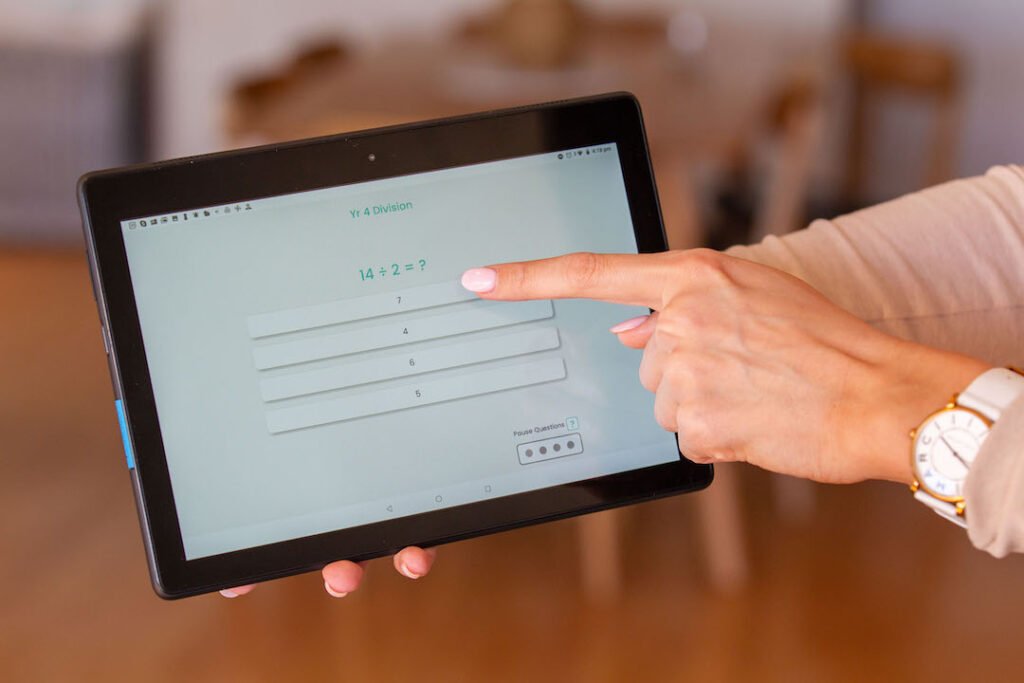 Kids are pretty savvy these days. Is there any way for children to get around these questions, or remove the app from their phone?
Issac: The Child app is currently PIN protected, which prevents children from adjusting any of the settings including which target apps the parents have chosen to be 'locked'. From the parent app, the parent is able to see, in real time, how many questions their child has answered, when they last answered a question, their current level of mastery in each topic, as well as their learning progress over time. With this insight, the parent will immediately know whether there have been some sneaky work arounds. We're sure there will be some savvy kids out there who will find creative ways to work around this – please come talk to us, we want to hire you!
What kind of topics are the questions based around?
Issac: Current topics available for Maths in Years 1 through 6 include times tables, addition, subtraction, odd and even, place value, time, multiplication, fractions, decimals, division, percentages, geometry, simple equations, roman numerals, prime and square numbers, and units of measure. We've also had a ton of requests for the adult version of 1Question and this is absolutely on our product roadmap. Really, using the 1Question platform, any one of us can learn anything from a foreign language, first aid, coding, up-skill your gardening game – the list is endless.
How can parents who love the app show their support and get involved?
Issac: 1Question is embarking on a Crowd Funding campaign with 'On Market'. We'd really love to have others join us who are just as passionate about children's education as we are. For anyone wanting to jump on board our journey and own a piece of 1Question, we are about to sell shares to the public. We think that the best users are those who are also investors! We're currently accepting expressions of interest here.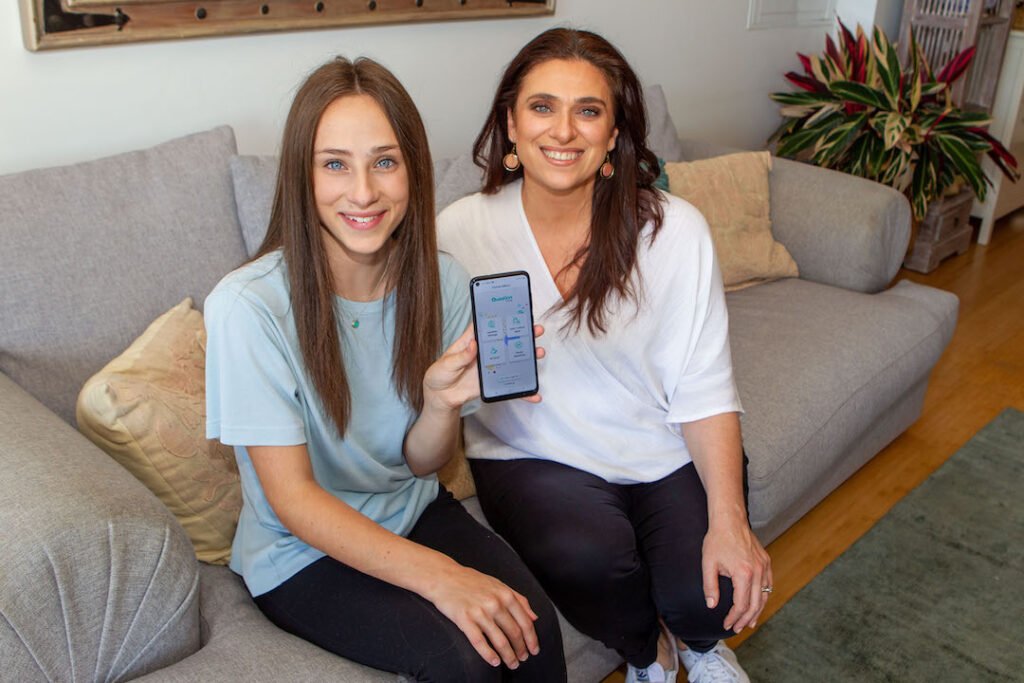 Tell us about the next few steps for 1Question.
Issac: We have a tutor program in the works, where tutors will be able to create custom questions for their students. This will be a useful tool for tutors as it will ensure tutoring sessions are spent teaching new concepts, rather than spending time consolidating and revising what was covered in the previous session. And we're opening up the 1Question platform to allow Educators globally to create their own micro courses, based on their area of expertise. This will help us scale incredibly quickly and it also means that anyone will be able to learn just about anything from experts in the field, globally! We're also working with schools and teachers to expand content.
Was the app developed locally (in Australia) or overseas?
Ann: The app has grown from a seed of an idea to what it is today from our home in Sydney! Team meetings at the dining table – some mornings there's no time for 'Good Mornings', we just jump right in. We're supported by an incredibly talented team of professionals all over the world, contributing their various areas of expertise. It's a bit like the United Nations!
Check out these other tech start-ups that have taken the world by storm
Top tech solutions that will help businesses supercharge growth
New tech creates a mental health lifeline for rural Aussies
Meet Mr Yum, saviour of the hospitality industry during COVID-19