Sarah Willmott, founder of the care package company Feel Better Box, discusses how a simple cold led to a booming business.
It certainly hasn't been a smooth road, but Sarah has been working on her care packages, and putting a smile on people's faces, for six years.
Tell us where the idea for Feel Better Boxes came from?
It came after a terrible week of being at home. I was sick, my two children were sick, and my husband was away for work. Spending almost seven full days at home was miserable and when we recovered I wondered what might have made the week more bearable. I thought if someone had sent me a care package with remedies or something to cheer me up, that would have really made an impact. And, after speaking to people with similar experiences, I realised I wasn't the only one. And so the idea for Feel Better Boxes was born.
How do you select the products that go into your boxes?
Most of my brands are small businesses in Australia, which I love. Originally, I asked around with my friends and family, and looked up brands on instagram. But now, with the business continuing to grow, I'm approached by other small businesses up to five times a week. It's tricky because on the most part, I already have their type of product in my care packages, but I always keep their details for the future if needed.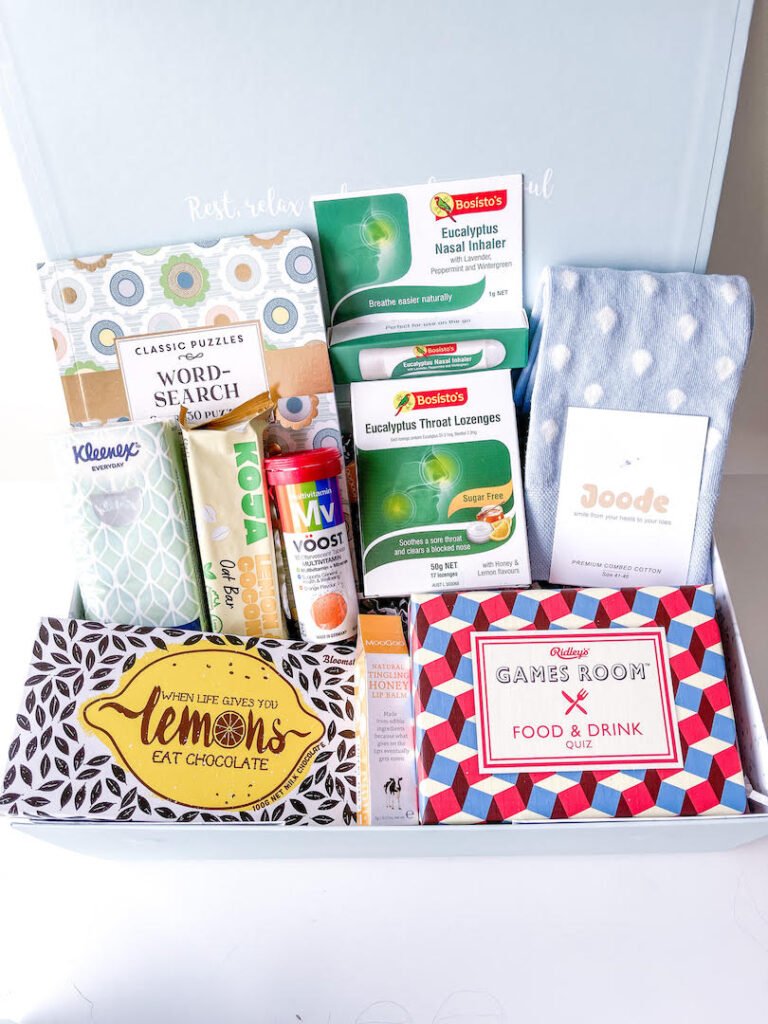 What was your first reaction to having so much success during a global pandemic?
My first thought was, I'm not prepared for this! How can I keep up with the demand? There was definitely a level of panic. But then I just had to surrender to the work and juggle, just keep going, like in a physical and mental marathon. It was such a thrill and also exhausting. But my heart was bursting with joy that we could be so needed and help so many.
As with many successful businesses, there is always new competition appearing using the same approach. How do you tackle other 'gift box' projects that are appearing?
After the first lockdown in Melbourne, we did see a huge volume of new hamper businesses. But we were four years into owning and running Feel Better Box. I know that starting and running a small business is just about the hardest thing you can do. So I guess having a foundation gave me confidence. Anyhow, each and every hamper company have their own personalities and products, and at the end of the day you can't suit everyone so it's healthy for our customers to have a choice.
There are Feel Better boxes for a number of situations, how do you think of them and then curate accordingly?
When I started FBB, I originally started with boxes for cold & flu, new mums, and hospital hampers. I'll admit that having just recovered from the worst cold and having two young babies of my own, I based the care packages on what I'd like to have received. This was a learning curve, because what I thought people wanted vs what they liked the look of were two different things, and I had to learn this over time.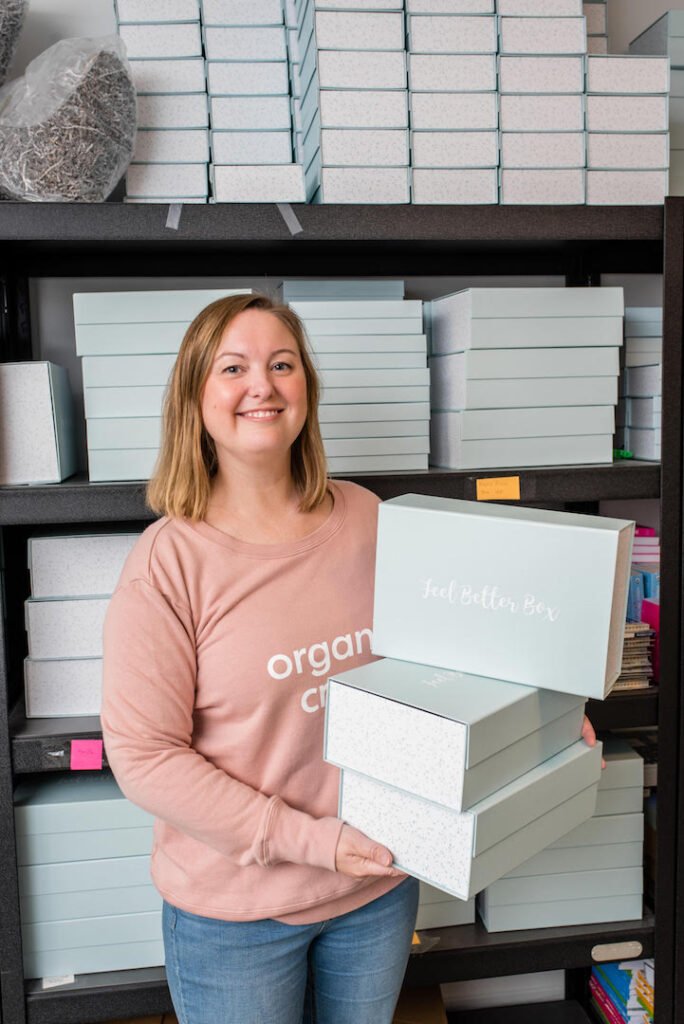 How has family been a support for you and your business?
Gosh, my family have supported me from the beginning. Initially, when I was away from Melbourne, I would ship my products and boxes over to my parents and sister, who ran the business for me for a few weeks. Then when I moved back to Melbourne four years ago, my parents helped me settle in and came to work for me one day a week. When Covid hit, they worked with me almost seven days a week, because I just couldn't do it alone. My sister also came on the days she was available. On those frantic days where we were racing against the clock to wrap the last orders, even my husband and children pitched in. It was truly all hands on deck!
Tell us about Joode, your sock brand launched in 2021. Where are they made, are they created from Australian materials and how do you know what sizes to put into the boxes?
I created Joode when my sock supplier pulled out of Australia. I really wanted something colourful and interesting to suit my care packages. I looked around the world and ended up sourcing my socks from Turkey. They're made from the softest combed cotton and I feel like I've created something really special.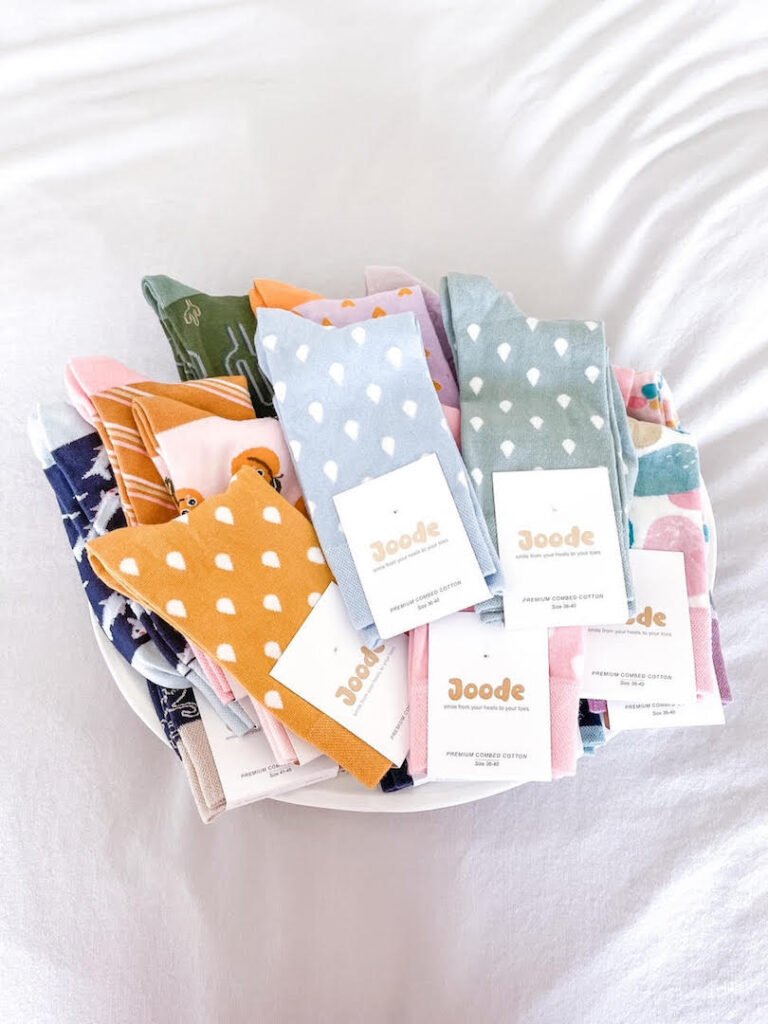 What's the next big initiative for Feel Better boxes?
I'd like to be Australia's go to for care packages! It's amazing to hear about how we help people, and to hear how it turned their week around and made a true difference always makes me cry. I often see people sending our care packages to say thank you and offer support. So I'd like to work towards bringing this idea to customers, that we're not just a get well soon gift company, we are here for you in all occasions.
Want to discover more small businesses taking the country by storm? Click here.