You never know when a chance meeting will change the course of your life—as it did in 2014 for Francesca Woods and Johanna Clark, the co-founders of Franjos Kitchen.
Fran and Jo met and bonded as two new mothers while waiting for the light to change at an intersection. However, this chance meeting would produce more than just a strong friendship. One day, after successfully using lactation biscuits to increase her milk production, Fran had the brilliant idea for them to start a business together based on their shared love of baked goods and Jo's naturopath knowledge. Thus Franjos Kitchen was born and began its mission to help families, and especially mothers, live healthier and happier lives.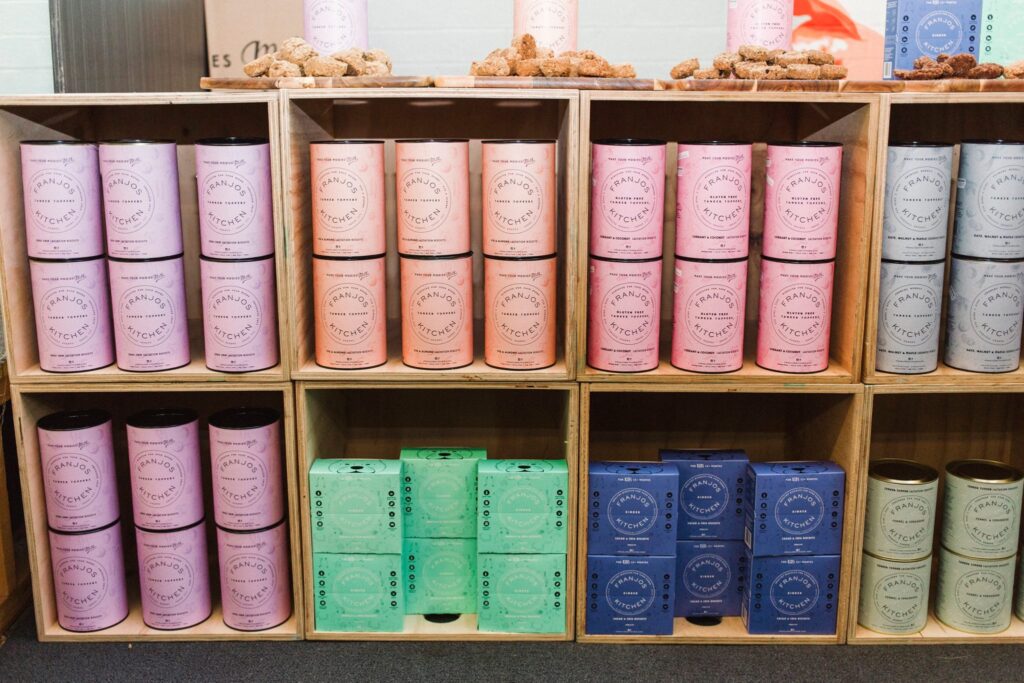 What were your biggest challenges when starting Franjos Kitchen?
There have been a few! As two friends both with young, growing families, we weren't the best placed financially. Additionally, we didn't have ample time to go all-in on the business and embark on the journey of creating a product in a category that almost didn't exist at the time.
When we started Franjos, there were only a handful of companies globally that were creating products for breastfeeding mothers. While this category is now well established and broadly understood, in the beginning, we had to invest in a lot of education for consumers and retailers.
Back to the growing families, bringing our babies into the world at the same time was definitely a challenge! A great experience for us personally as friends, but as business owners, it did prove challenging. That being said, we wouldn't change it even if we could.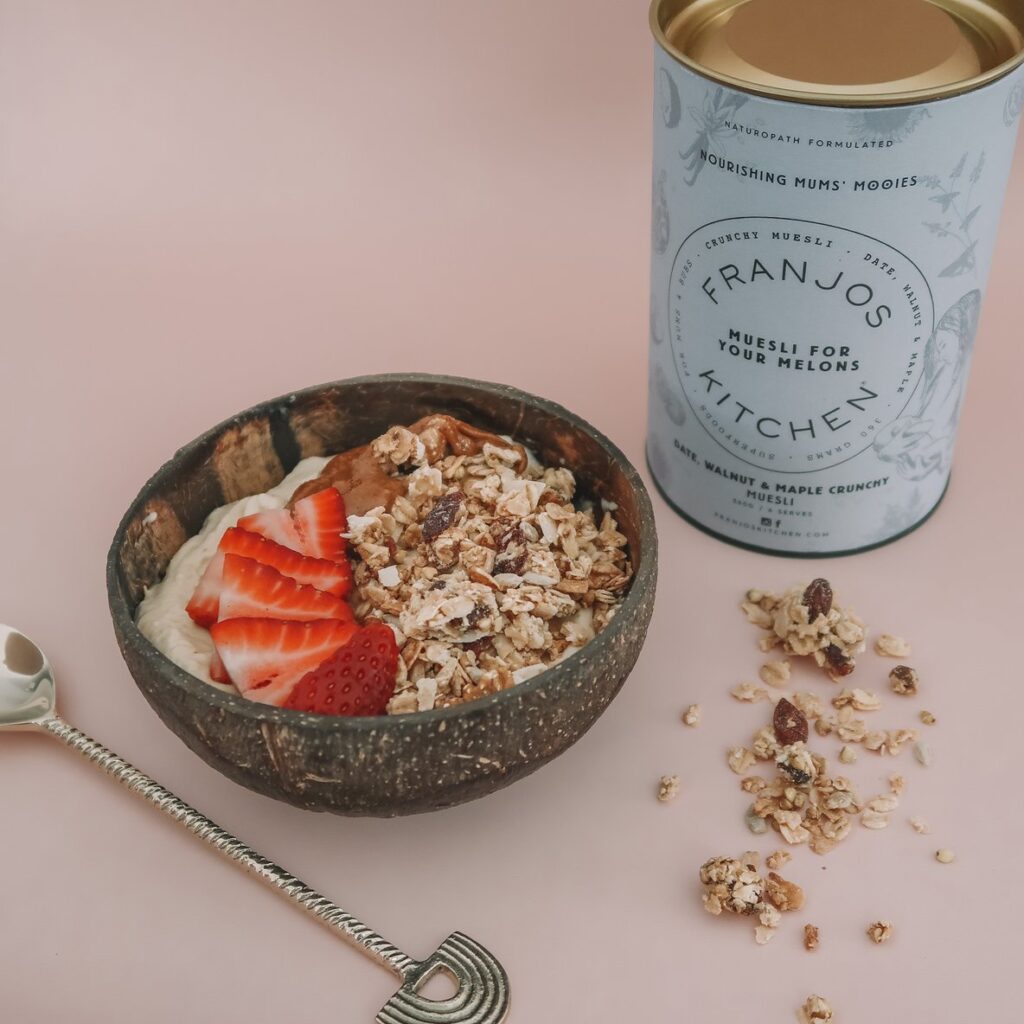 What makes Franjos Kitchen stand out in comparison to competitors in the market?
Every product created at Franjos is formulated by a naturopath (Jo) and we use carefully selected, real ingredients with purpose. When reading our product ingredients label we want you to feel assured that everything listed has been used for a specific reason.
For example, our new Motherhood Blend contains two key ingredients:
Ārepa:

a clinically tested formula proven to support cognitive function, reduce mental fatigue, and enhance immunity. Ārepa contains New Zealand blackcurrants rich in vitamin C, a rare amino acid found in green tea, and an ultra-pure bark extract from kiwi pine trees.

Faba bean protein:

sourced from country Victoria. It assists with muscle recovery and repair, which is especially important after pregnancy and birth. The addition of Cordyceps Militaris Extract, an adaptogen sourced from fungi, helps improve stamina, memory, and libido—three things that tend to go AWOL after a baby.
Our products are proudly Melbourne-made and Australian-owned. Special care is taken to ensure that our products are plant-based, dairy and egg-free, and free of refined sugar. We also use ancient grains that have much higher nutrient value, are easier to digest, and make our products wheat-free.
Another element that was key to us in the creation of Franjos was the packaging. We wanted mothers to feel special when they used or received Franjos products, not clinical or sterile.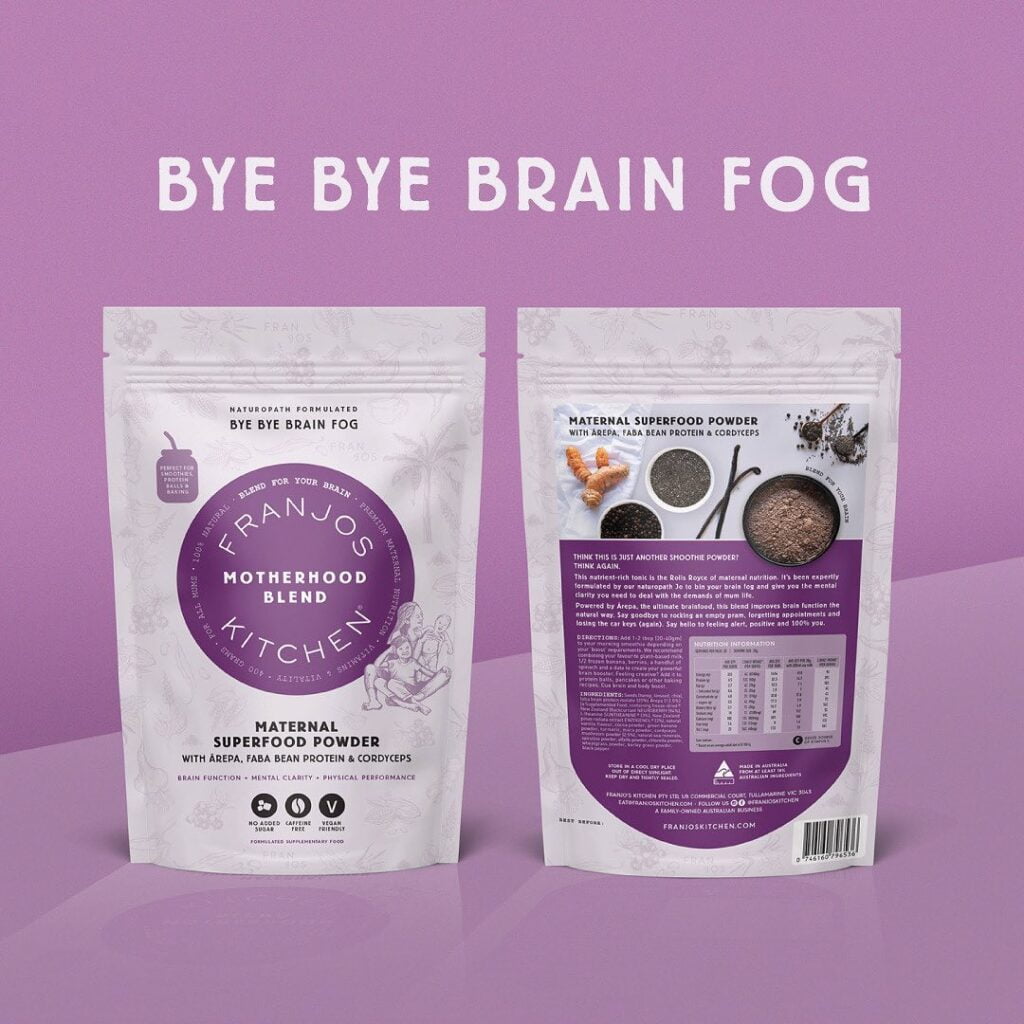 Does Franjos Kitchen give back to your community?
We donate a portion of every sale online of our best-selling Choc Chip Tanker Topper to PANDA—an organisation that runs a National Helpline for families affected by perinatal anxiety and depression.
We also support numerous charity auctions, events, and programs supporting expecting and new mothers with products, education, and resources through Calmbirth and Purebaby.
Our social media is run by a midwife, Aliza Carr—BumpnBub. Through social media, we hold a safe and nurturing space to educate and inform our Franjos Kitchen community.
In 2019, when you came close to calling it quits due to overwhelming debt, what was your strategy for overcoming this obstacle, and what lessons did you take away from the experience?
When you're starting a business, you naturally want it to grow. So, you invest a lot of time into that section of the business. Ultimately, without ongoing investment or capital raising, a business has to be profitable to survive.
There came a point when we realised that we couldn't continue forever without making a profit. There were only two options at that point; quit, and repay our bank debt for the next decade! OR; focus on profitability first, rather than growth.
We knew the key to profitability was questioning every expense and focusing on building and supporting our team to in turn nourish and grow the business. Our mantra as we kept chipping away was 'nothing good comes easy'.
When faced with difficulties in the business, what motivates you to keep going?
We are both high achievers and don't give up easily. It's safe to say we are both type-A personalities. We are very conscious that many people love and rely on our products. This both humbles us and encourages us to keep going. Mums need us!
We are both also conscious that we support a number of strong working women whose income relies on our business. We don't take that responsibility lightly.
What is your favourite memory associated with starting and running Franjos Kitchen?
There were so many highs in those early days—the first sales, the first 5-star reviews, the first stockist ordering (and then re-ordering!). Even 7 years on, we still get so much pleasure from each of those things!
We also love doing trade expos and meeting our customers in person at events. Attending always leaves us with such a high.
And we still vividly remember meeting each other on the corner of the street, both pushing our prams… little did we know this meeting would change the direction of our lives forever, and for the better!
Has the COVID-19 pandemic had any effect on how you run your business?
With Fran living in NZ and our team all working remotely, we have always worked through Zoom meetings and WhatsApp conversations. So we are fortunate that Covid-19 didn't change the 'way' we work and communicate with each other.
That said, we don't normally homeschool! The lockdowns have been the hardest on the team, made up of all mothers. It is such a challenge juggling homeschooling, lockdown in general, and then trying to work. We have had to take things slower or be more realistic about what can be achieved during that time.
Over the last couple of years, we have experienced huge growth both personally and business-wise. Fran had a baby, we have launched a new product and have three other products due to launch in early 2022. We are very proud of what we and the team have achieved!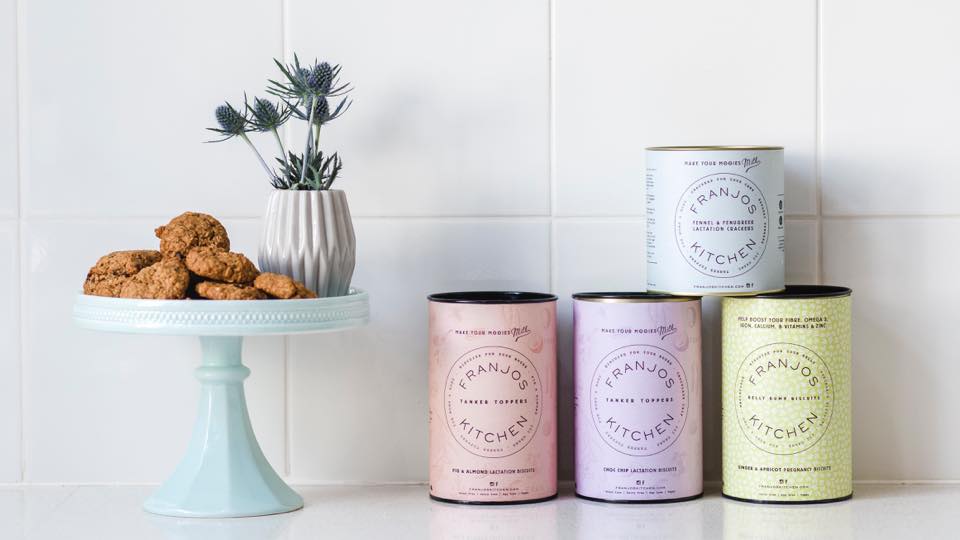 What are your plans for the future of Franjos Kitchen?
We spent 2019 and 2020 setting up the foundations of our business to grow—with a great team and a strong balance sheet at the core.
This year, 2021, we've focused on product development and investment in the brand. We have recently launched our Motherhood Blend and have developed three more products.
We will be using 2022 to launch those products and, fingers crossed, getting some new, really exciting retailers on board who we have been talking to for a long time…watch this space!
How do you juggle all of your responsibilities: running a business, six kids between you, and a day job?
Lockdowns aside, we are pretty good at outsourcing and prioritising. We know our limits and are very respectful of each other's limits and pain points.
It's taken a lot of trial and error over the years, but we are cognisant of what we can achieve and try to set realistic goals for ourselves. This means we both prioritise our families, our own health, and well-being above everything else. To us, this means making time to exercise, eating well, and not working weekends/after hours unless we choose to!
The beauty of the business being run from our home offices means we can achieve a lot. On the other hand, sometimes it's hard to switch off. And sometimes we have little people around our feet whilst trying to be in 'business mode'!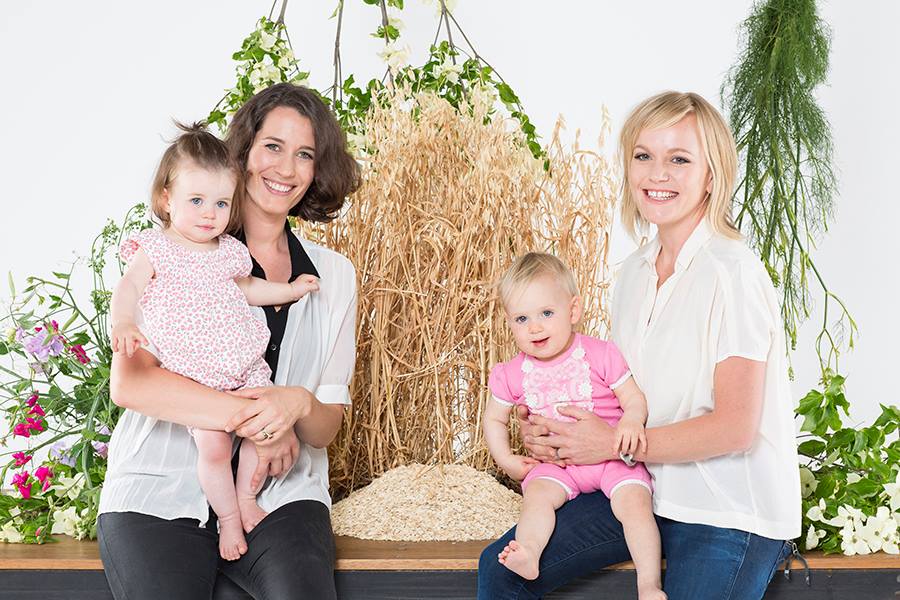 What is your number one piece of advice for other women who want to start their own business?
You need a lot of resilience! Despite all the success stories you see online, it is hard, stressful, and at times, lonely. You need to ensure you have a really clear 'why'.
For us, the 'why' is twofold. First, we wanted to create a product and brand that supported mothers during those all-important early years. We created Franjos when we were in the thick of it and believed we could do genuine good for other mothers.
Our second 'why' is our families. We are showing our children so many valuable life skills and lessons in action plus simultaneously creating a life where we can put our families first.
If you enjoyed this read, we recommend our article FEMPOWERED: New book focusing on Australia's Women-led businesses.