GRASSROOTS LITERACY
During this year's National Book Week (August 20-26), Rabobank's Rabo Community Fund has partnered with George the Farmer on the mission of educating children about where their food and fibre comes from in a fun and educational way, through the fictional character George and his friends. The collaboration will award 50 primary schools across all of Australia with a George the Farmer book set for their school libraries. 
According to Rabobank client council manager, Yvette Loyson, George the Farmer's down-to-earth manner and grassroots charm resonates with young children in rural communities, and equally inspiries city-based children to have a better understanding, appreciation, and connection to agriculture. The client initiatives are centred around five key themes, one of them being the urban/rural divide. As a result, George the Farmer's mission aligns well with the Rabo Community Fund's key theme of creating and strengthening connections between the urban and rural. 
Ms Loyson also said the George the Farmer book sets would contribute to increasing awareness of food and fibre production at schools. Furthermore, this could potentially spark some children's interest to pursue a career in agriculture.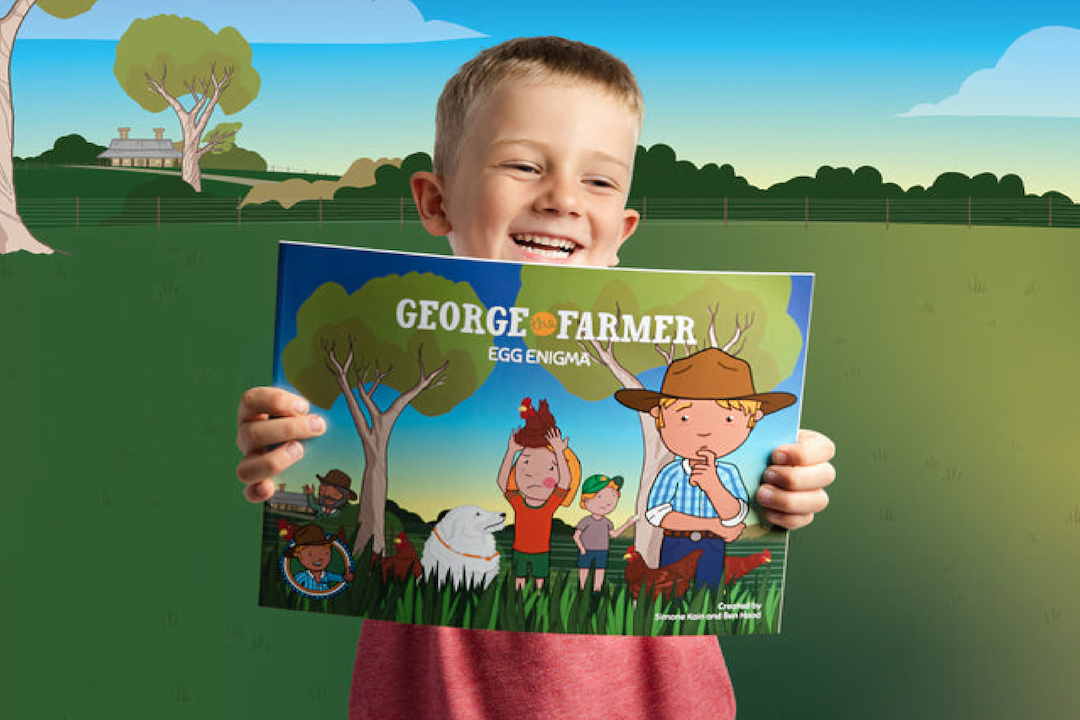 RABOBANK
Rabobank is one of Australia's largest agricultural lenders and a major provider of business and corporate banking services to the country's food and agribusiness sector, as well as the world's leading specialist food and agribusiness bank.
In 2021, Rabobank launched the Rabo Community Fund in Australia and New Zealand to invest in the sustainability and vitality of rural communities, in which many of Rabobank's clients live and work in. Rabobank has a rich history of community engagement, and this book week initiative will make an even greater impact on the rural communities the bank supports. 
At the heart of their communities, the bank's farming clients are the ones who lead the priorities of the Rabo Community Fund. They support "local initiatives with the aim of tangibly and meaningfully contributing to the vibrancy and resilience of rural Australia."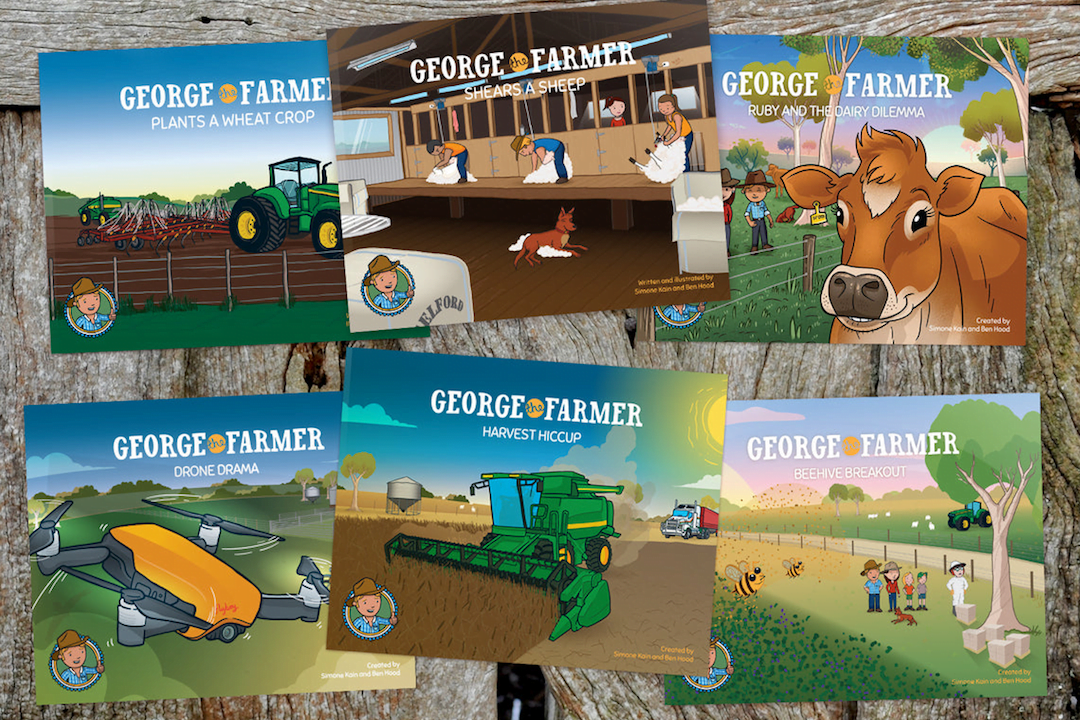 ORIGIN
In 2012, founder Simone Kain was looking for stories on farming for her toddler George, who desperately wanted to be out on the farm with his dad. Ms Kain wanted to find farming books and apps to entertain and inspire him for when George stayed indoors, but could not find them. Thus, the idea of George the Farmer began. George the Farmer officially came to life in 2014, and the story spilled from storybooks to all kinds of media. In these stories, George the Farmer, agronomist Dr Ruby, and twin children Jack and Lucy collaborate to solve challenges of daily farming life with solutions and fun. Other characters include Jessie the Kelpie, Neville Burrows, Kev and Susan Butler, Will the Wool Classer, Alex the Dairy Farmer, Jo the Beekeeper, and Ben the Fireman. 
Ms Kain explains: "There are currently 12 George the Farmer books and counting, exploring a range of farming practices – from shearing, wheat and beef cattle to honey enterprises and robotic dairy operations." 
NOW AND NEXT
Based in South Australia, the George the Farmer Team produces picture storybooks, expanding to music and paddock-to-plate videos free to watch on YouTube and ABC TV. The franchise has exploded into popularity with nationally-touring performances and free curriculum-aligned educator resources to educate and inspire kids on the importance of agriculture in everyday lives. These books have spread to classrooms all over Australia. Through the adventures of George the Farmer and his farming community, more than 100,000 Aussie kids from the big smoke and the bush have connected to the earth, food, and farm.
"We receive many photos every year of excited kids dressing up as George and Ruby Farmer at their school Book Week parades," said Ms Kain. "The myriad of George the Farmer resources are helping to educate and inspire the next generation – the future leaders, big thinkers, innovators, makers, fixers, creatives, teachers, policy makers and farmers."
With the Rabobank partnership, there will be greater encouragement of agricultural literacy and education in children. These amazing book sets contribute from the grassroots by inspiring our youngest and brightest new citizens. 
Read more about agribusiness marvels such as Perfection Fresh's tomatoes and investment in agricultural education through FarmBeats.