From drilling machines to excavators, crushing and grinding equipment – the mining industry requires a dizzying array of machinery and technology to carry out its work.  
These tools are constantly evolving to meet new safety requirements and output targets. Here's a round up of what's just hit the scene.
Jayben S60 Remote Controlled Mining Scaler
Claimed by the Jayben Group as a world first, the S60 Scaler is a diesel powered fully remote controlled crawler unit designed to safely clear material that has built up on stepped benches and remediate the vertical walls of open pit mines.  
Highly flexible in operation, the S60 has a variety of quick attach accessory tools such as hydraulic impactors, picks for scaling and a bucket for material clearing that can be attached to a specifically designed multi-positioning mounting. For future development, shotcrete applicators, drilling and explosive placement, meshing and water blasting attachments are all planned.
In operation, the S60 is secured to a piece of heavy equipment such as a bulldozer. Two large onboard winches, incorporating auto cable condition monitoring, allow 130 meters of extension over the mine edge. Extendable stabilisation arms provide lateral stability on uneven faces.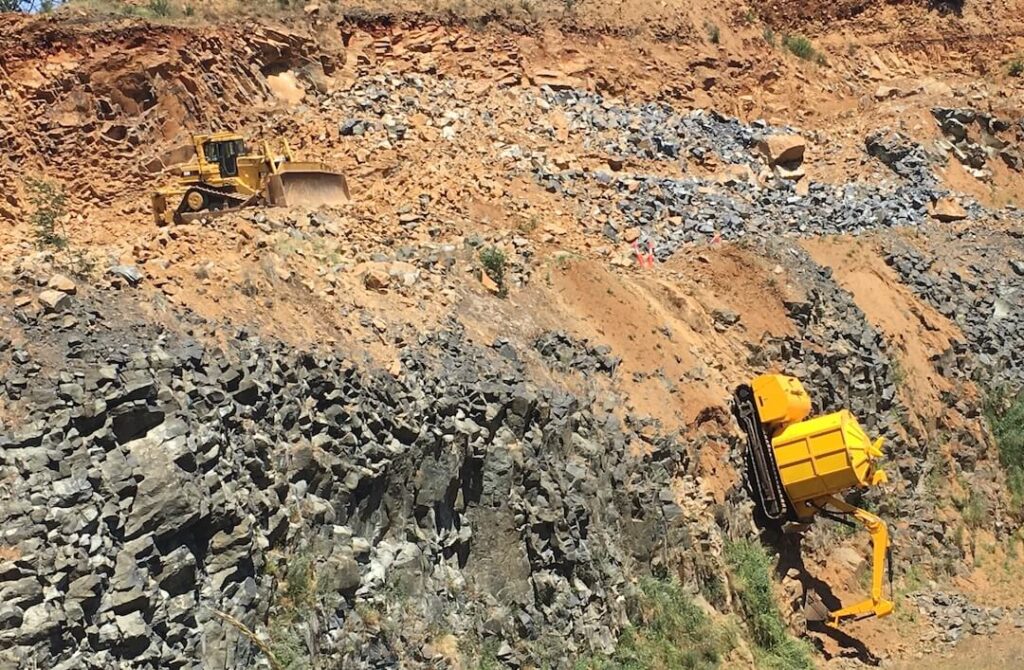 Designed specifically for the harsh conditions of the Australian mining industry, the S60's body incorporates heavy duty fibreglass panels to protect the powerpack. along with substantial guarding around vital components such as the track frame and winches.
Several cameras strategically placed around the machine, together with powerful floodlights, leverage cutting edge 3D camera logic to enable the operator to remotely view the work area and control the machine at all times, day and night.
The Wi-Fi enabled, cloud-connected Industry 4.0 machine interface allows direct connectivity to the factory from anywhere in the world to enable comprehensive data analysis to assist with maintenance and trouble shooting.
Bis Razor Underground Grader
Winner of the Best Product Launch category of the Queensland Mining Awards 2020, the Bis (www.bisindustries.com) Razor is the first all new underground grader to come onto the market in 20 years. Engineered to improve uptime, reducing maintenance costs and down time, the Razor boasts superior engine power and grader mass that has been optimised to increase tractive effort by over 30 percent. 
Bis has designed the grader with safety front-of-mind. The modular drivers' cabin has dual access with improved ergonomics for the driver safety and visibility, both forward and at blade. The braking system is NSW MDG 39 compliant incorporating dual SAHR emergency/park brakes directly coupled to the rear drive wheels for greater safety and reliability.
The engine system is NSW MDG43 compliant providing low engine exhaust emissions as we; as increased power and torque, providing traction for ground engagement forces through the blade. The transmission has also been upgraded from 3 to 4 speed for a wider range of grading speeds.  
Universal Field Robots UFR E20C UFR Autonomy/IMDEX BLAST DOG
Universal Field Robots joined Bis Industries on the podium at the Queensland Mining Awards 2020, taking out the Greyhound Innovation (METS) Award. UFR and IMDEX conquered the challenge of logging blast holes, while removing operators from harm's way by taking the IMDEX BLASTDOG™ solution from concept to prototype in just four months.
The collaborative project combines UFR's E20C 2-ton robotic platform that operates UFR Autonomy (called AutoLog), and IMDEX's downhole sensor technology, to deliver IMDEX BLASTDOG™; a semi-autonomous system that helps optimise blasting based on measuring hole physicals and high-resolution three-dimensional material models built from sensor data.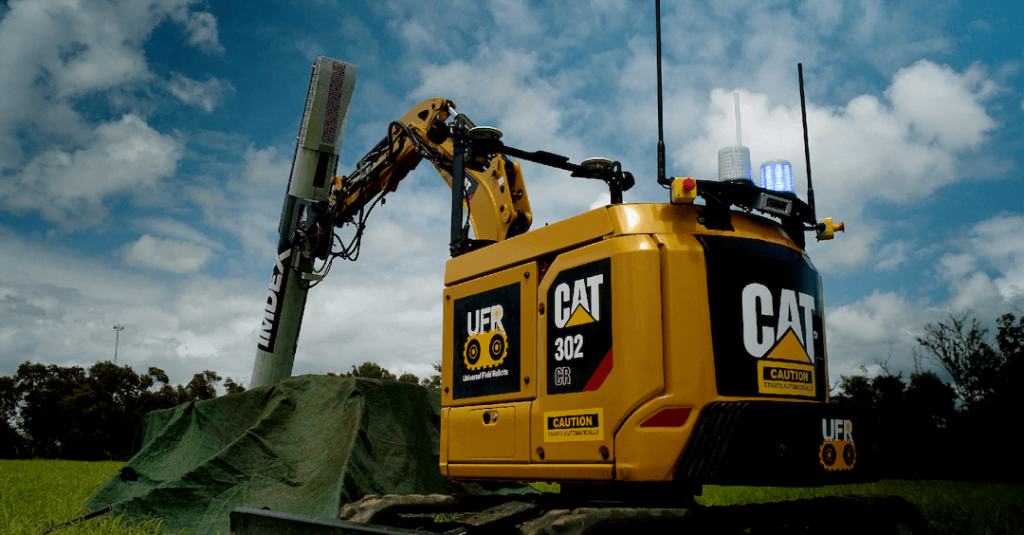 To perform the sensing, UFR AutoLog drives along the mining bench to hole locations derived from mine data as provided by the IMDEX system. AutoLog uses robotic vision to check the hole location and then lowers the IMDEX sensor down the blasthole. The critical data is sent to IMDEX's IMDEXHUB-IQ system in the cloud in real-time where mining engineers can analyse it and if necessary, make changes to the blast design. 
The improved blast design can lower the cost of blasting, improve fragmentation, and reduce the dilution of ore to improve mining outcomes. UFR AutoLog and IMDEX BLASTDOG move people out of a dangerous zone to improve safety, increase productivity and reduce risk.
Bortana EV Dual Cab Ute
Safescape, a mining services company operating from offices in Victoria and Western Australia has shipped 10 prototypes of the locally developed Bortana electric vehicle to mine sites across Australia for testing underground and general mining. Developed in a collaborative industry effort led by the Mets Ignited industry growth centre, the vehicle is based on the Agrale Marruá, a heavy-duty, corrosion resistant Brazilian vehicle.
Mets Ignited provided support of $500,000 while industry partners Safescape, Minetech Australia, Aeris Resources, and Cougar Mining Group spent $700,000 developing the Bortana. The Marrua ute, is made by Brazilian bus and truck manufacturer Agrale, designed for the military and it is as tough as the Portuguese translation of Marrua, meaning "wild bull".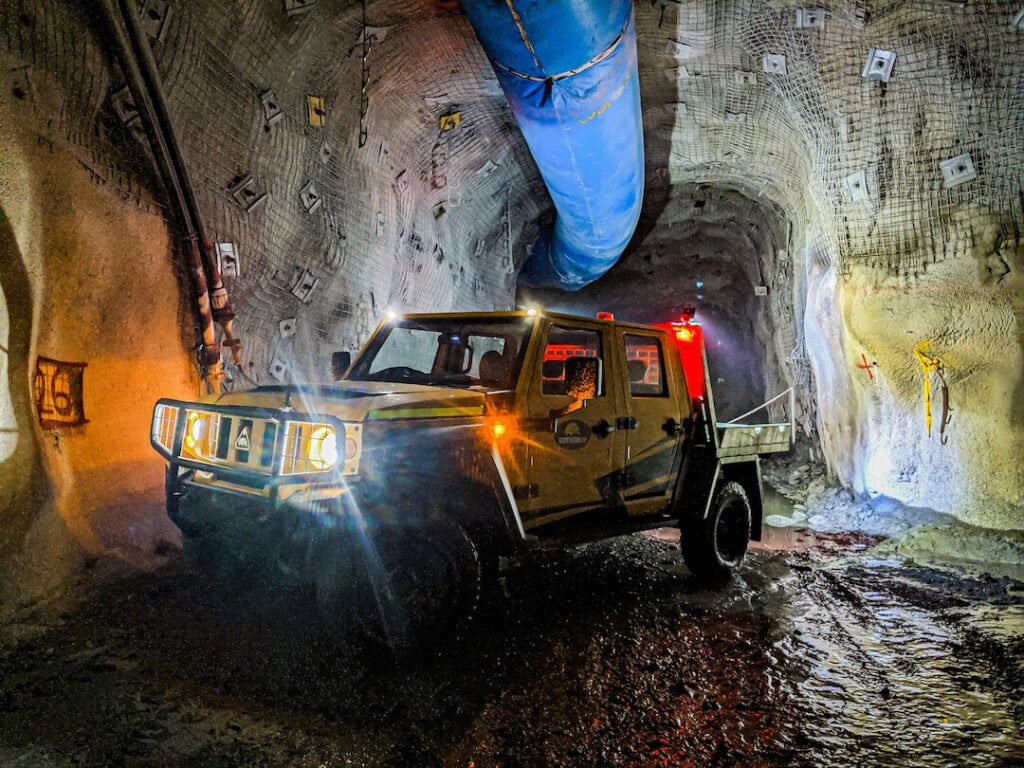 The Marrua has a chassis of heavy-gauge steel that is completely sealed (no holes) and coated to prevent corrosion; a fully galvanised body; a bulletproof drive train, over-engineered axles (the rear is rated 1000kg more than the vehicle's payload); and it was designed to be dropped from  height to reach the speed of 9m/second before hitting the ground – without breaking any part.
Safescape had the 10 vehicles shipped from the Brazilian factory without drivetrains or components associated with internal-combustion engines. The EV propulsion units are fitted in Australia, initially at Safescape's Bendigo facility and then in WA.
The electric drivetrain comes from components sourced globally and the batteries are specific lithium-ion NMC batteries made in Australia. The Bortana is fully-ADR compliant and has safety equipment that meets the category, including electronic stability control and anti-lock braking. Because it is classified as a truck it is not required to have airbags.
The Bortana prototype has a range of about 120km, which can be further enhanced with more batteries. The batteries are currently under the bonnet and in a unit atop the tray, but in future will be mounted under the load tray.
As vehicles in mining operations do not cover large distances, the Bortana can complete a normal shift on one charge. Recharging can be completed to 80 per cent within 15 minutes and to maintain battery charge, the vehicle can be plugged in underground while the vehicle is not being used.
To read about other developments in Australia's minding industry, click here.