Usually, Sunny can be found on a pitch playing professional A-League football. When she's not training or playing, she's kicking around Sydney working as an air-conditioning and refrigeration mechanic.
The birds are beginning to chirp but it's more than likely Sunny Franco has already been up for a while. Every day, she goes for a run at 5:30am before donning a yellow high-vis shirt, steel-caps and pair of FXDs.


"I like to keep fit because I play professional football for the Newcastle Jets. I'm also working for the Northern Beaches Council and it's not only labour intensive, but it requires a lot of brain activity so exercising helps," said Sunny.

She was introduced to the world of heating, ventilation and air conditioning (HVAC) by her father who works in water treatment. It didn't all begin so easy though: like many other young Australians, she jumped from café to bar until she found herself at TAFE with an apprenticeship.

"Sometimes I do feel like you need help getting into the trade industry. For me, I had the comfort of my dad telling me that I would be ok. I have had it so easy, I'm not even kidding. I feel like if you get along with the blokes you work with, they will want to help you out whenever they can. They're always offering to get things for me and it's a really nice environment to be in every day," said Sunny.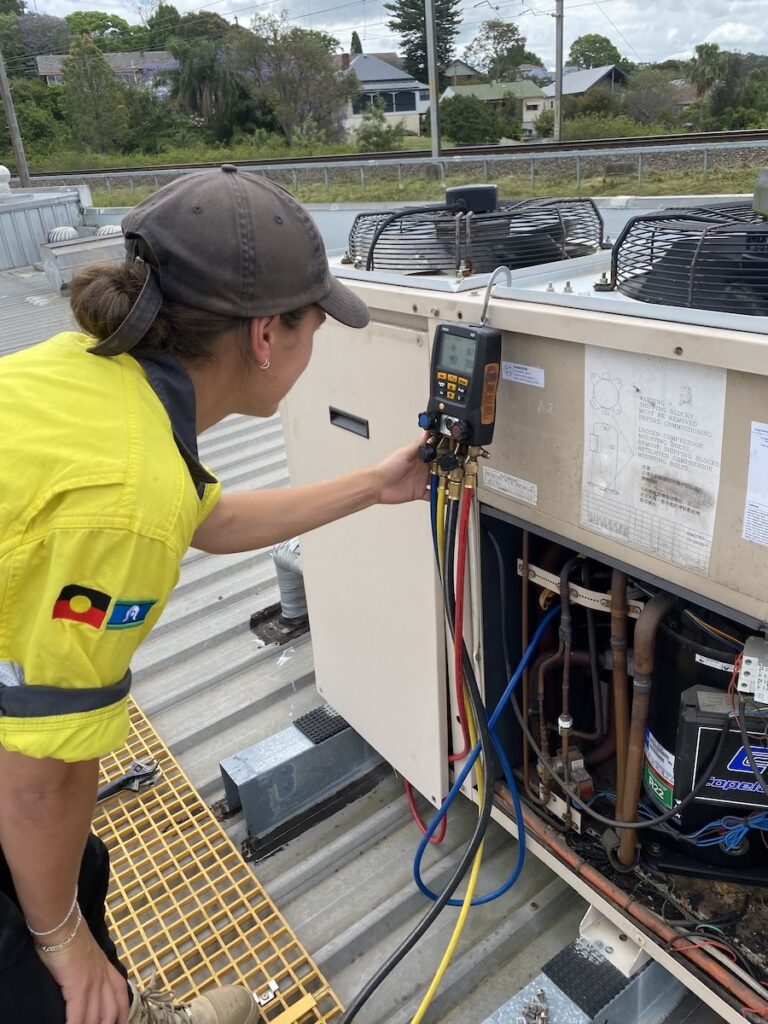 On the job with Sunny Franco
Carrying 15-30kg gas bottles up and down stairs, onto and across roofs, and manoeuvring them around for work would be tiring after a ten-hour day. In between the heavy lifting you need to stay focused, as live electrical wires and gas sound like a recipe for disaster to the untrained mind.
"The thing with females in a trade is obviously we're not as strong as the boys, and that's fine. There are tools to do the hard things for us. You know, work smarter not harder. Either that or the apprentice can lug up the gas bottles to the roof space," Sunny laughs jokingly.

"The best part about being a female in trade is about helping other females. Sometimes when Aiden [Sunny's colleague] and I arrive at a job, I will often find many women feel much more comfortable talking to me when they need help. It's a positive for the business because they develop a great client relationship and I enjoy my job knowing I offered some level of comfort to our client."
Sunny Franco was an essential worker right through the pandemic. Through a series of intense Sydney lockdowns, she was getting out and about servicing air-conditioners and refrigerators.
"We have massive contracts with commercial enterprises like Westfield and a lot of the North Shore hospitals as well. We do a little bit of everything because if you work in mechanical refrigeration like I do you can work both domestic and commercial jobs." The air-conditioning systems for retail facilities such as Westfield operate on a 24/7 cycle. Sunny ensures that the operating systems are compliant, energy efficient and are in good working order to keep shop-goers cool in the Australian summer. Alternating from the immense cooling systems of retail enterprises to domestic work is a change of pace and scenery.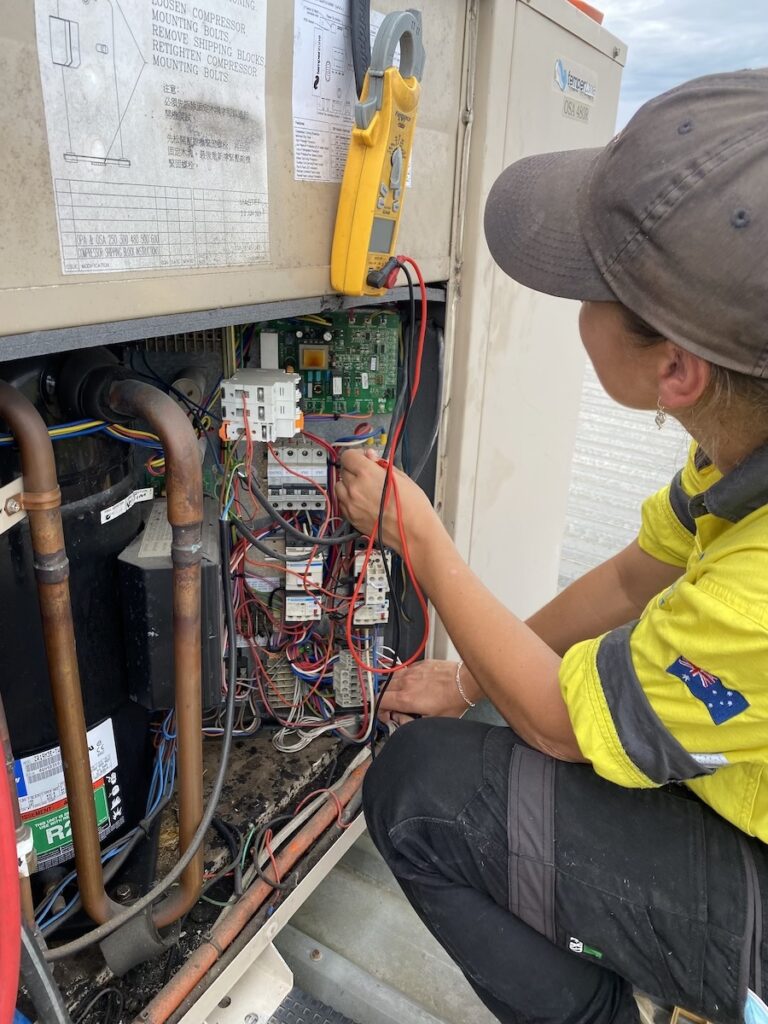 "Some of our smaller jobs include air-conditioning vents on caravans. We had a call one day to go check out an air-conditioner that wasn't working and I asked if anybody was home. They told me it was vacant and when we arrived, I knocked on the door… and kept knocking. I assumed it was empty as they had said over the phone and decided to open the door. I got the shock of my life when there was a woman standing naked in the hallway."

Sunny laughs and admits that her co-worker goes slightly red on the occasions where this happens. To my surprise, Sunny said it wasn't the first time she had seen a customer's birthday suit. I guess that's why you should always knock on the fridge before opening – just in case there's a salad dressing.

"You might arrive to a job and it seems the house is empty so you just assume work, and all of a sudden they're out of the shower and you're looking eye to eye with one another wondering what exactly to do next."

Sunny loves her job, even if she sometimes sees more than she bargains for. She studied and completed a three-year apprenticeship with TAFE, gaining her Certificate III in Air-conditioning and Refrigeration.

If you're interested in pursuing a trade in air-conditioning and refrigeration like Sunny Franco did, more details can be found online here. Alternatively, you can find your state's TAFE institution online. If you would like to read more about other inspiring women visit the links below: