Ben Cohn knows a thing or two about thinking outside the box. His simple business idea to solve a common problem has snowballed into a hugely successful venture. Now, he's sharing his top tips with other aspiring problem solvers.
Most people start a business with an idea for an amazing product or service, but that only takes you so far. A seamless and enjoyable customer experience can often be the differentiating factor between a one-off customer and one who not only returns, but also becomes a buzzing brand advocate.
'Enjoyable' isn't typically a word that comes to mind when you think about self-storage. Quite the opposite, it's a service inevitably tied to some of life's most stressful events such as renovating, selling your home or just plain old putting things away. It's also not a sector historically renowned for embracing innovation or convenience – it hasn't had to.
When we first started looking at self-storage over a decade ago, we saw an industry ripe for disruption. We had innovative ideas to transform the self-storage paradigm into a more customer-focused concept of 'mobile storage' that appealed to a growing consumer desire for on-demand access to products and services, convenience, and an amazing, transparent and easy online experience.
Just as importantly, though, we realised creating an overwhelmingly positive customer 'journey' would be key to cutting through any antipathy about using more traditional storage in any form.
Start with the perfect product
From the outset we made a conscious effort to think deeply about our core product, and used technology and innovation to offer convenience and ease to appeal to our key market: urban professionals. It's crucial to get this step right – the most awesome CX in the world won't mask a flawed product or service that doesn't deliver what it promises.
Instead of expecting our customers to pack up their stuff and haul it themselves to a lockable unit in an industrial estate, we deliver a TAXIBOX to their doorstep ready for packing up, which we then whisk it off to our storage facility. We even developed an online storage calculator, Calcumate, which helps users visually stack their belongings into the box like a game of Tetris. There's also a live tracking feature so customers can see their box on the move, and Bluetooth locks can be added for customers to manage access directly from their smartphone.
Stand in your customer's shoes
Next, we thought about the entire customer journey from their perspective and considered what pain points they might encounter. Our customers are typically busy professionals, valuing great service and a memorable experience. As a result, we obsessed over every touchpoint in our business to ensure the process was as easy and intuitive as possible. Our customers can complete the full booking process online with a simplified checkout, which not only speeds up the interaction, but also reduces our physical touchpoints with each booking.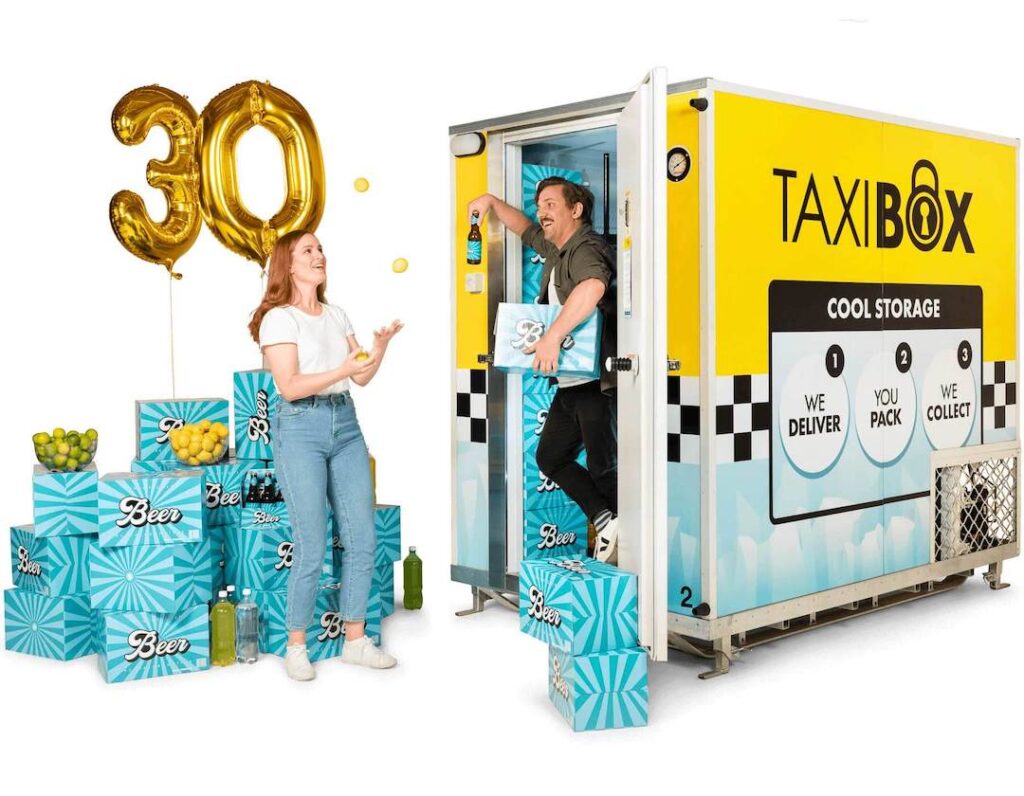 Seal the deal with surprise-and-delight features
Then, there are the built-in bonus features that make our brand enjoyable to deal with.
For example, when you make a booking, you get an email saying, "Hey, it's me, it's your TAXIBOX. I can't wait to see you, I've done my hair for you". Or, "Hey, it's me, A3652, I can't wait for our date." We also offer customers a Spotify playlist, with our email along the lines of: "I know how stressful moving can be, so I made you a 'moving on up' playlist".
A select few customers have found our communication a bit too risque, but 99.9% generally resonate with it. The juxtaposition of what people expect to be a tedious process with such a playful interface has proven to be powerful for us. Customers feel like they can relate to us, and we find that builds trust.
Understand your market and your brand
Along the way, we've taken risks, and fortunately, most of them have paid off. It comes down to knowing our target market really well. As a young brand offering something different to established players, it lends itself to a bit of attitude and personality – plus it reduces that 'mechanic-effect' where you don't feel like you know enough about the service to even walk in the place.
We also make sure our customer-facing service is on-point. When customers request a call from us, a smartphone queuing system searches the client's profile and provides us with any information we have on them to allow us to personalise our calls. We tell our team to be human and vulnerable, and to have a personable and fun relationship with the customer. Otherwise, you're just another call centre speaking like a phone drone. We ditch "I'm sorry, unfortunately our records indicate that this service is unavailable on the date you've selected" for "Wow. This Friday is BUSY. Let me look into squeezing you into the schedule but it's going to be tight like a tiger. Hang in there while I ask around."
Use customer feedback to drive the business
As a business, our determination to create the best 'customer journey' possible means we continuously examine the experience and identify anything we can implement to further improve. In other words, we aim for outside-the-box thinking to exceed everything our customers might expect from a storage company.
While positive reviews are always great to receive and provide reinforcement that you're doing something – or multiple things – right, it's the negative or less-than-positive reviews that you should really pay attention to. To drive the business and continue to enhance the customer experience, use this feedback to tweak your product or service and really listen to what they have to say. This is what helped us with the 'x' factor that makes TAXIBOX.
Ben Cohn is the CEO and Co-Founder of TAXIBOX, Australia's leading mobile storage company founded in 2010, with operations in Melbourne, Sydney and Brisbane.
While you're here, check out these other young entrepreneurs:
STRONG Pilates: a business scaling success story
24-year-old COO shares his top tips for young professionals
Meet the Aussie startup tackling our single-use plastic problem