The world is rapidly evolving around us, and the latest innovations are making the world spin faster, however, there's one bad habit we can't seem to lose that is holding us back: Plastic.
There's a materials revolution well underway, with energy, transport and agriculture rapidly changing yet the issue of plastic waste stays the same. Great Wrap, an Australian start-up founded by Jordy & Julia Kay, has said enough is enough, and has invented products the world was missing so that we can finally dump plastic once and for all. Great Wrap are on a mission to remove the 150,000 tonnes of plastic stretch wrap sent to Australia's landfill each year. It is one of the eight Australian start-ups recognised in the international Foodbytes! Pitch for 2021.
The start-up produces the only Australian made compostable cling wrap in the market. A typical plastic piece of cling wrap will take up to 1000 years to decompose in landfills. Great Wrap takes less than 180 days to break down into carbon and water, and it can happen all in your own backyard compost bin. If you consider how many school lunch sandwiches you had wrapped in plastic, you'll soon realise the imperativeness of a product like Great Wrap's.
CEO and Co-Founder of Great Wrap, Julia Kay, set out on this journey after finally cracking under the plastic-madness in her industry.
"In architecture I would spend a lot of time looking for the most sustainable materials only for them to arrive on site wrapped in pallet wrap made from petroleum based products."
"One day, Jordy and I were sitting on a beach and asked ourselves if we weren't operating in our respective industries would they be any different without us. The answer felt like a no, which was when we really decided to do something more meaningful for the planet and for ourselves."
A NEW TYPE OF PLASTIC
Their compostable plastic has been through multiple iterations, with each new formula being a step further into sustainability. The initial 'recipe' was made from polylactic acid and olybutylene adipate terephthalate, or PLA + PBAT.
PLA is a renewable biomass made from fermented plant starch, such as corn. It's commonly used in renewable products however many of the plants utilised come from intensive, industrial agriculture. And PBAT is a common ingredient in most compostable items, it is a fully biodegradable polymer but the catch is that it's made from oil.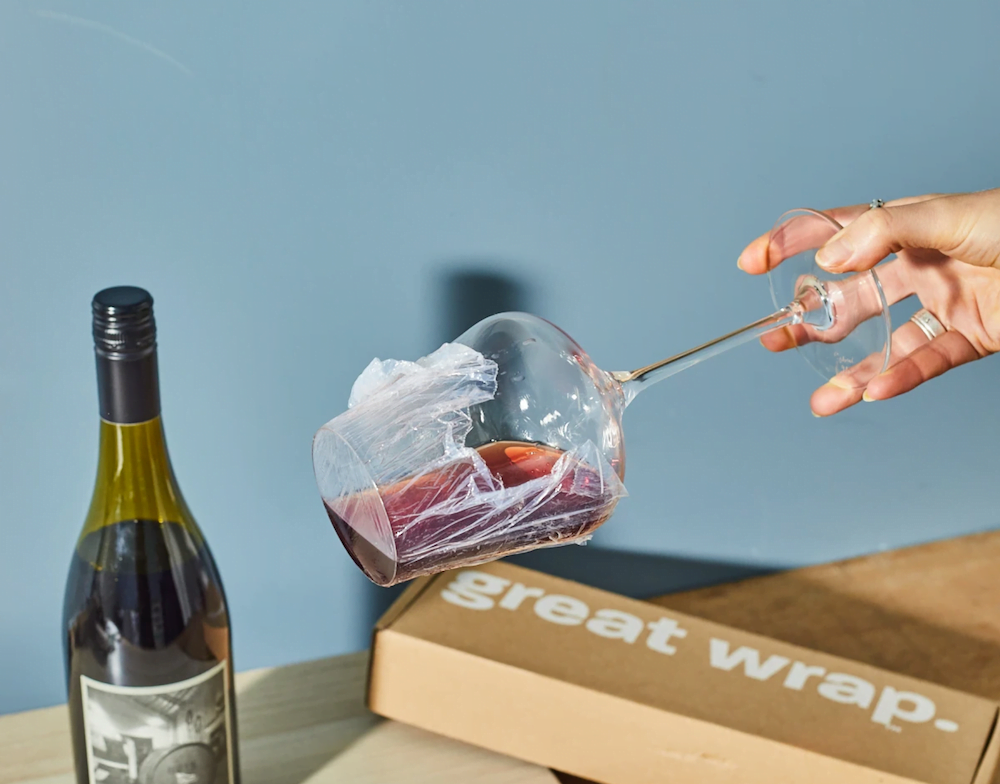 Jordy and Julia weren't happy with the original formula as it wasn't renewable enough. "We want to offer products that solve problems, not create them."
Today their product is made from potato waste and of other compostable biopolymers – which are certified compostable. The idea is that by using food waste as the main raw ingredient, it means Great Wap can contribute to the circular economy and solve more than one problem at a time.
At the start of 2021, Julia and Jordy were the only employees. Now there are thirty, and by this time next year they are aiming to onboard one hundred more. And this drive for expansion is coming from interest in both the consumer and commercial industries. The start-up maintains this interest by running on a business model of direct-to-customer and direct-to-business sales.
"You'd be surprised to know how many people are still using petroleum based products at work and at home because there hasn't been an effective and sustainable solution until now."
Great Wrap currently has a variety of stakeholders from across the country, all who are looking to dump plastic from their lives as well. The next industry the founders are looking to revolutionise is the catering and warehouse industries.
Caterers tend to use reams of plastic wrap for every job to keep their food safe, and warehouses will wrap pallets in metres of plastic wrap to secure them. With Great Wrap, these two industries can significantly reduce their landfill impact by switching to the sustainable, compostable cling wrap.
The next ten years for Great Wrap will be focusing on product development, international expansion, team growth and of course, saying goodbye to plastic forever.
Ausbiz had the opportunity to chat with the eight Australian start-ups recognised in the 2021 Rabobank Foodbytes! Pitch, which sees an international line up of agricultural start-ups and enterprises shaking up the food and agricultural industries.
Meet the other winners:
Think Bio is a start up using bacteria and fungi for sustainability
Agridigital – The start-up transforming Australia's grain industry
Ulu Hye's do it yourself Mylk solution is changing the way we drink milk